http://www.buffalonews.com/entertainment/story/227159.html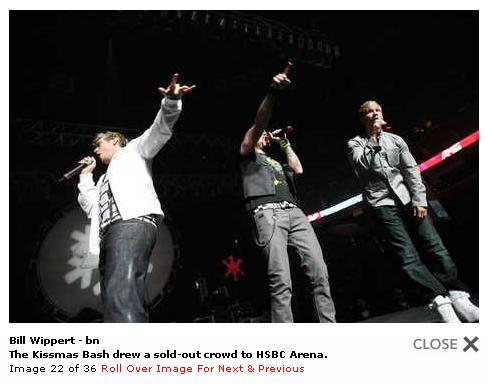 A Kissmas miracle, for teens at least
By Joe Sweeney
Updated: 12/12/07 7:03 AM
Tuesday night, a lead singer walked onto the stage of a sold-out HSBC
Arena, strumming an acoustic guitar. And before he broke into the first
verse, it was clear that he knew his audience.
"Let's see you put those cell phones up!" urged Martin Johnson, lead
singer/ rhythm guitarist of Boys Like Girls, the opening act of Kissmas
Bash 2007 — an event in which 75 percent of the audience was probably
too young to be carrying a lighter.
And judging by the sea of glowing cell phone screens that appeared in
the crowd, the kids were having a ball. A Boston- based quartet touring
in support of its self-titled debut album, Boys Like Girls dished out a
buoyant, snappy set of cookie- cutter pop-punk tunes, with the
exception of the aforementioned ballad, "Holiday." And while they
weren't lacking in energy — especially drummer John Keefe, who was
throwing monster fills all over the place — they couldn't compete with
the tweens, teens and "cool" moms, whose ear-shattering shrieks marked
the beginning and ending of practically every song.
But the shrieking didn't begin (or end) there.
The "hosts" of
the evening, the Backstreet Boys, kicked off the evening, and the
rambunctious cheering they received proved that while they may be dead,
they're certainly not forgotten
.
Brian, A.J. and Nick appeared in different parts of the arena
throughout the evening to make important announcements, like which
section had just won free food from McDonald's.
After the first Backstreet interlude came Good Charlotte, a five-piece
group that should be credited for having more staying power than your
average Sum 41. Their set gave a few clues as to why they're still
hit-makers.
...
After another riveting Backstreet Boys moment,

where they rubbed their Backstreet "Backsides" on a Kiss 98.5 DJ,
teen sensation Sean Kingston took the stage. Despite a muddied
soundboard mix, which left his lyrics mostly unintelligible, the
Miami-born, Jamaica-bred singer's blend of lite rap, reggae and R&B
was undeniably charming.
...
Speaking of ending it all, the Backstreet Boys followed Kingston by
trying to get the crowd to sing "Frosty the Snowman" with them.
Needless to say, when Simple Plan subsequently hit the stage and opened
with their song "Addicted," the response was better.
...
Any old dump like me is going to complain a little about this show,
especially with all the shrieking, but we can't forget that the Kissmas
Bash lets thousands of young people have fun listening to live music.
...
What was truly annoying about the event was what happened between performances.
As soon as the last song of each set ended, two screens on either side
of the stage began playing TV commercials and music videos of Kissmas
Bash artists.
Immediately after Boys Like Girls finished their last song, "The Great
Escape," the screens started playing the video for it. Something just
felt wrong about that.
But then again, my idea of a good time is falling asleep while trying to finish a movie.
another picture of the Meet&Greet from
http://kiss985.com/Kissmas-Bash-2007/1324769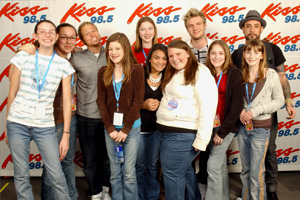 Thanx to misha@LD for finding these