http://www.bostonherald.com/track/in...icleid=1050717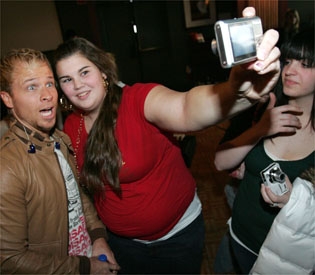 Backstreet Boys back in the Hub
By Gayle Fee and Laura Raposa
Friday, December 14, 2007
Backstreet Boy Howie Dorough is all grown up - and a husband. But the
ex-teenthrob said he's not too worried about breaking up any catfights
between his new bride, Leigh Boniello, and his adoring fans now that
Backstreet's Back.
"You know Leigh's been with us from the beginning," said Dorough, who
met his bride when she worked as the boy band's Webmaster. "She knows
what this business is all about and she loves it. She's amazing."
What's more amazing is that eight years after their heyday, the aging
Boys - Dorough, Brian Littrell, A.J. McLean and Nick Carter - can still
draw a huge crowd of screaming, panting females (in the middle of a
blizzard!) to the Boston Billiard Club. The mini-concert, for a
keyed-up crowd of MIX 98.5 listeners, is part of the Kevin
Richardson-less band's push for its new album, "Unbreakable."
In between belting out hits like "I Want It That Way" and "House of Cards,"
the Boys talked to the crowd about their comeback as well as past memories of performing in Boston.
"The last time I was in Boston was when I left for rehab," a sober
McLean proudly shouted to his cheering fans. "I'm now five years sober!"
...
"This has just been so crazy and beautiful," Dorough told us. "To get
married and then come out here and perform - we're back full force."
The Boys high-tailed it out of Boston to make a gig in Hartford last night -
but promised to return soon.

They're slated to perform at the TD Banknorth Garden sometime next spring.